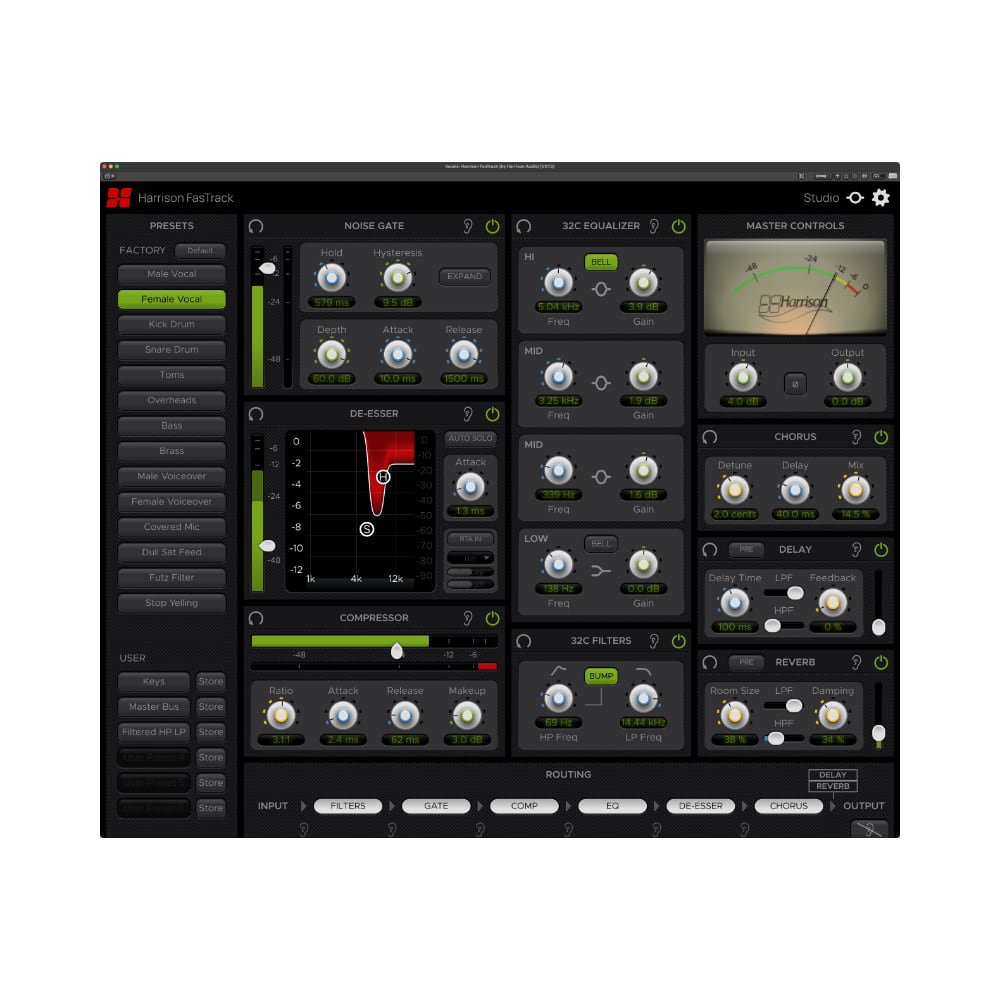  
Conquer Demanding Voice or Vocals in Any Fast-Paced Environment
FasTrack is the go-to plugin when you need to work quickly and effectively. The included legendary 32C EQ effortlessly a warm and rich sound that can not be obtained with ordinary EQs. FasTrack improves the sound quality of live vocals or spoken word whether you're recording a podcast, live streaming, in the studio, on stage, or broadcasting. FasTrack is the star of the show when working with karaoke! If you are working within a DAW but need the immediacy of a live console workflow, FasTrack is the plugin you need.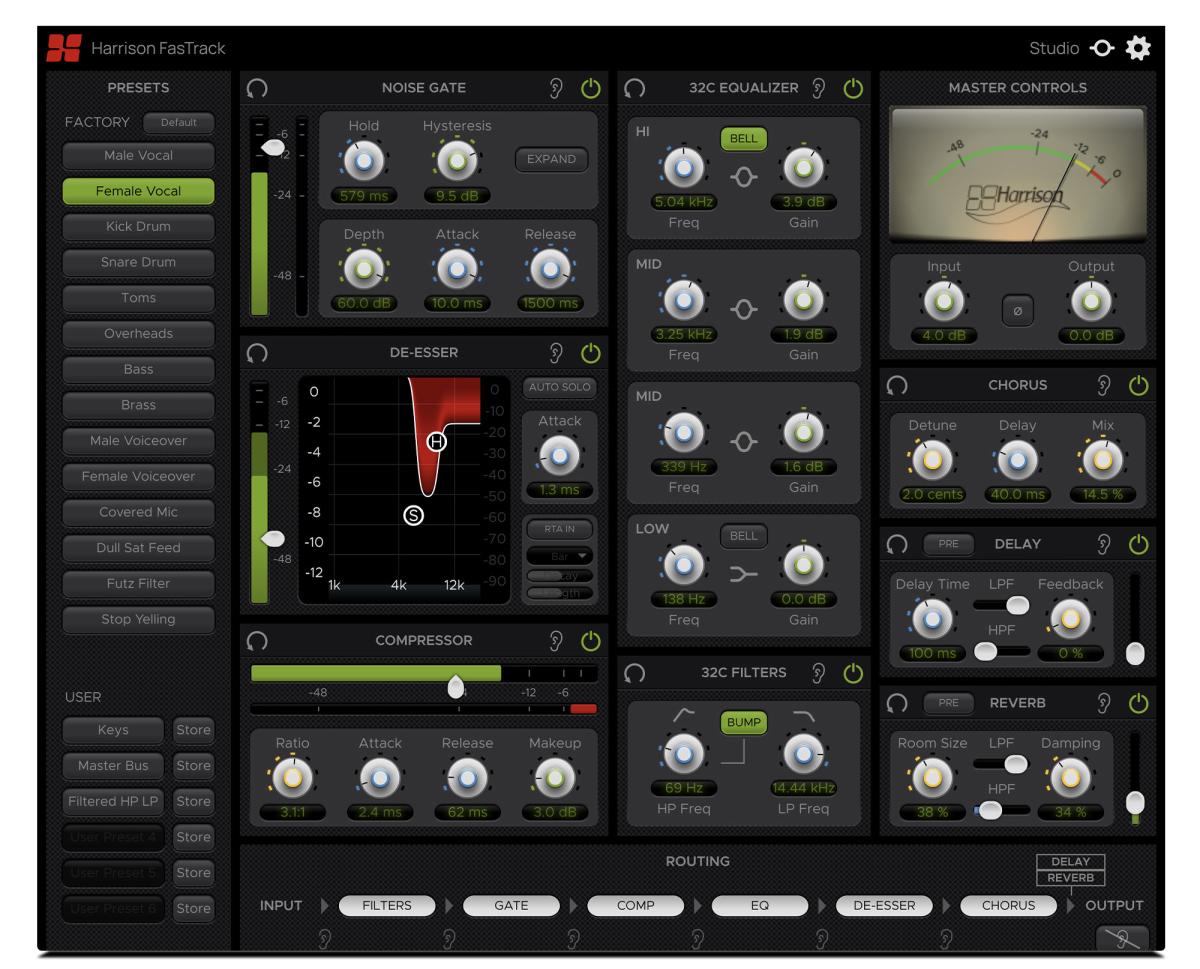 14 expertly curated presets to get you started fast
11 unique ultra low latency processing components
Dynamics gate, de-esser and compressor
Harrison's famed 32C parametric EQ with High Pass Low Pass filters
Chorus, delay and reverb effects
Flexible signal processing routing
Presets
With the Presets module, you can switch between different presets in seconds without wasting time on menus. Whether you need a preset for vocals, drums, guitars, or keyboards, you can find it in the 14 factory presets or create your own in the 6 user preset slots. The Presets module lets you customize your sound on the fly and adapt to any live situation.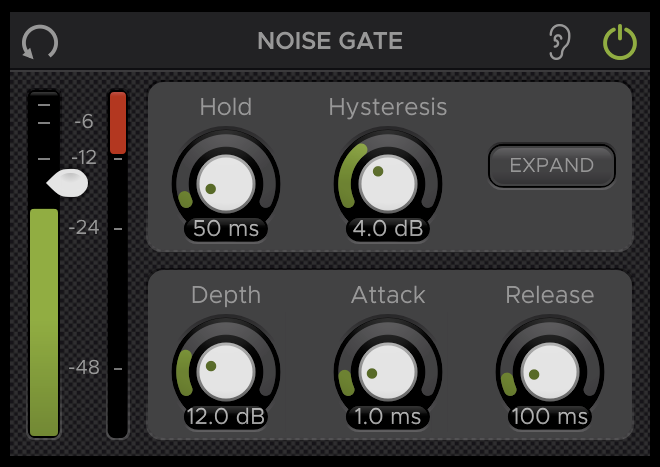 Noise Gate
Background noise can ruin your mix and make it sound muddy and unprofessional. That's why you need a quality noise gate. FasTrack's noise gate is a powerful dynamics processor that can easily attenuate any signal that is below a level that you set. Eliminate unwanted noise from your tracks and make them sound clean and clear. The Noise Gate also has an expander mode that gives you more control over the attack and release of the gate. With the Noise Gate, you can improve the quality of your mix and make it sound better than ever.
De-Esser
Get rid of those annoying sibilance sounds that ruin your vocals and smooth out the harsh frequencies that make your mix sound unpleasant FasTrack implements Harrison's famous De-Esser algorithm, which is trusted by many professional audio engineers around the world. It is easy to use and effective, and it will make your mix sound more balanced and polished.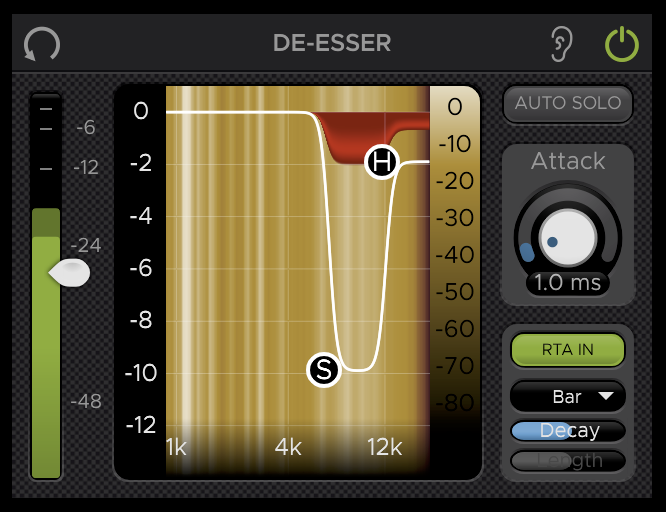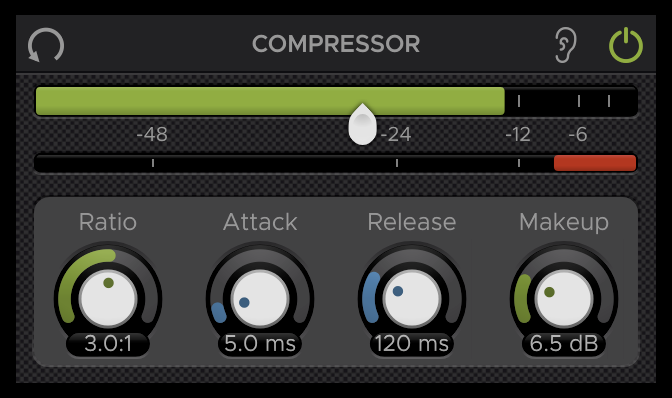 Compressor
FasTrak's Compressor module lets you shape the sound of any signal with ease and precision. Whether you want to add some punch to your drums, smooth out your vocals, or glue your mix together, the Compressor module has you covered. The Compressor module also has a sidechain filter so that you can avoid unwanted pumping or ducking effects. With the Compressor module, you can enhance the dynamics of your mix and make it sound more professional and polished.
32C Equalizer
Experience the legendary sound of the Harrison 32C channel EQ in your mix. The 32C Equalizer module gives you four bands of sonic sculpting power, with a HI, LOW, and 2 MID bands. Whether you need to add some sparkle, warmth, punch, or clarity, the 32C Equalizer module can help you achieve the perfect balance for your tracks.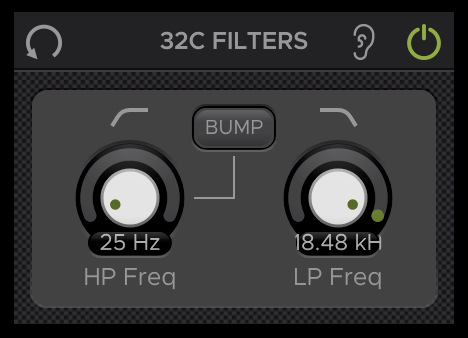 32C Filters
The 32C Filter module is a powerful tool for shaping your sound to perfection. You can use the High-Pass Filter (HPF) and the Low-Pass Filter (LPF) to dial in the exact frequency range of your signal. Whether you need to cut out low-end mud, smooth out harsh treble, or add some creative flair, the 32C Filter module offers you the versatility and quality you need to make your mix sound better.

Effects: Chorus, Delay, Reverb
Chorus creates harmonized layers of your signal, adding richness and dimension to your sound. Whether you want to make your vocals sound like a choir or enhance other sounds, chorus can do it for you.
Delay produces echoes of your vocals, giving them more liveliness and space. You can fine-tune the timing and feedback to match your preferences.
Reverb mimics the sound of various environments, such as halls, rooms, or chambers. It adds depth and ambiance to your sound, making it more realistic and immersive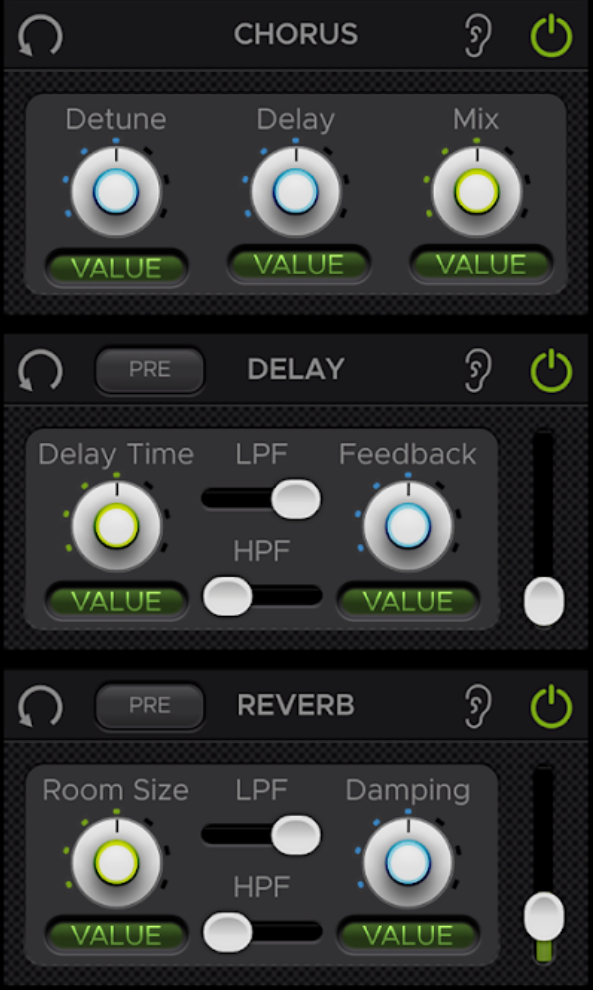 Routing
FasTrack lets you customize the order of the 6 processing elements at the bottom. Just drag and drop them to change the order. You can also swap them by dragging one over another. The INPUT and OUTPUT controls are always at the start and end. This way, you can shape your sound exactly how you want it.